See Why People In Bristol County, Rhode Island Are Installing Water Features In Their Backyards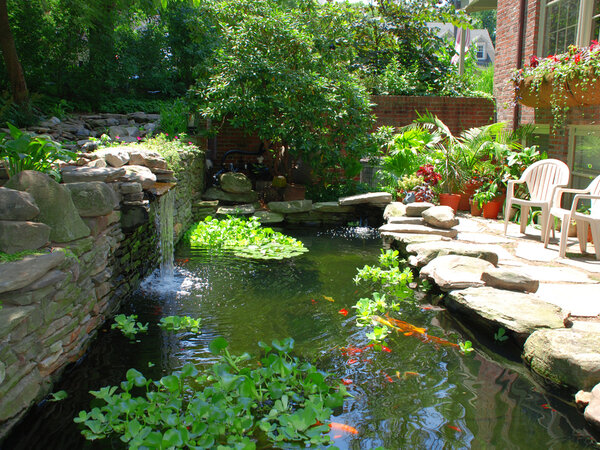 The three types of water features for backyards include ponds, pondless features, and fountains. People love them for the benefits they bring.
Discover more below-
"A water feature for our backyard," repeats Brian slowly.
Amy frowns and nods cautiously. "Okay, I'm still unclear as to what you mean by that. I haven't heard of this trend before."
Brian nods and smiles excitedly. "One of my co-workers was showing us pictures of the one they got for their home. Their koi pond looks really great! He says there are a few different options besides ponds to choose from too."
"Okay, color me interested," says Amy. "Let's do a Google search and we can see if there's anything that looks like what I saw," says Brian. He takes out his phone to start looking. "See how much a koi pond costs too," suggests Amy.
Here's what the couple finds:
Types Of Garden Water Features
The three types of garden water features are koi ponds, pondless, and fountains. These water features for backyards bring similar benefits to the homes they're in. They have different levels of maintenance, which is the main reason why people choose one over the others.
These are the most complex in the water feature family (but some say also the most enjoyable.) We specifically build ecosystem koi ponds. They're built to look and function like a natural pond. They look beautiful and are low-maintenance, meaning less work and more enjoyment for you.
2. Pondless Water Features For Backyards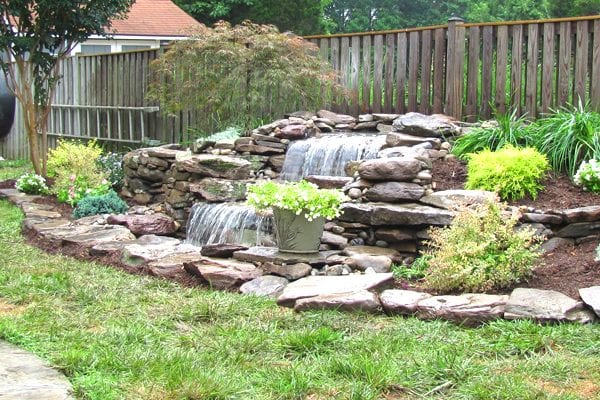 Pondless water features are usually a combination of a stream and waterfalls. They're easier to maintain than ponds and can look just as beautiful. We create them to look as natural as if you built your house around a water feature that was already there.
3. Fountains For Backyards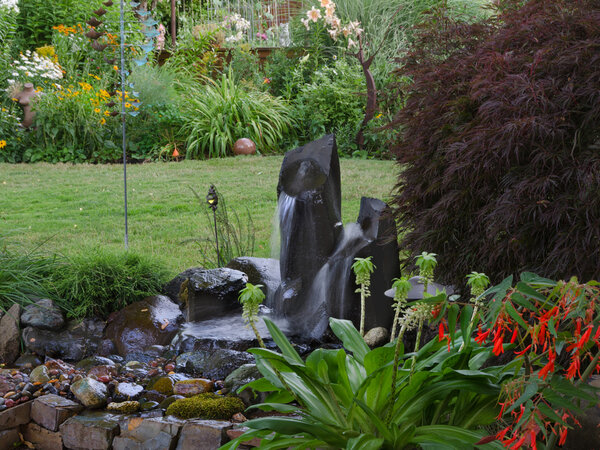 Garden fountains are the easiest to install and maintain. There are many different styles to choose from like stacked slate, spillway bowl, and more. Many people put fountains in their other water features.
Why You'll Want A Backyard Water Feature
There's nothing quite like the sight and sound of running water. A few benefits of each of these types of garden water features include:
Creating a soothing and relaxing atmosphere for you to enjoy
Getting people outside into the fresh air and sunshine
Being a unique feature that stands out from the rest
Helping block out road noise and other sounds
Being a key feature to gather around when hosting people
Entertaining kids and adults
You May Also Like To Know
"What?! These are incredible, I had no idea this was a thing!" says Amy excitedly. "Right?!" agrees Brian. "Quick, let's find more information on these water features for backyards. We might be able to get one!"